FERAL Set To Release "Dragged To The Altar" On Ibex Moon Records;
European Tour Announced
2011 looks to be a huge year for the Swedeath savages known as FERAL. First off, the band is set to release their long-awaited full-length debut, Dragged To The Altar, through North America's premier death metal label, Ibex Moon Records on April 26th. The follow up to their well-received 2009 EP, Welcome To The Graveyard, promises to bring the most groove-laden and primal death metal exported from Sweden in some time. Footage of FERAL in the studio recording Dragged To The Altar can be found at this location.While you're at it, check out the video for "Welcome To The Graveyard" here for a taste of the destruction to come.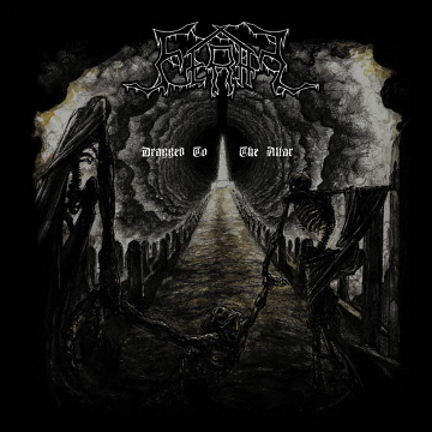 1. Once Inside The Tomb
2. Altar Of Necromancy
3. Judas
4. Welcome To The Graveyard
5. Howling
6. The Deathbog
7. Graverobber
8. The Curse Of The Casket
9. Behead The Crucifix
10. Malevolent Summoning
11. Outro
In support of their upcoming release, FERAL will join Swedish death metal masters DEMONICAL, Germany's ARROGANZ and GLORIA MORTI (on select dates) for the "Death Infernal Tour" which will wreak havoc across the European countryside this May. Vocalist Hook had this to say about the outing,
"We are thrilled to hit the road with one of our favorite bands from Sweden right now, there is no doubt that we will have a complete blast with Demonical and the rest of the lineup. We are also looking forward to finally get a chance to promote our album "Dragged to the Altar" that will be released before the tour. Europe should best prepare itself, because in early May we will open the gates and let the death metal flow!"


Death Infernal Tour Dates:


Demonical + Feral + Arroganz (+ * Gloria Morti)
03.05 2011 SWE - Stockholm - Sugarbar *
05.05 2011 GER - Hamburg - Bambi Galore *
06.05 2011 GER - Bad Oeynhausen - Black Sabbath *
07.05 2011 NL - Eindhoven - The Rambler *
08.05 2011 BEL - Oostende - OHK *
09.05 2011 UK - London - Purple Turtle *
10.05 2011 FRA - Valenciennes - Peniche Igelrock *
11.05 2011 GER - Neuss - Das Haus *
12.05 2011 GER - Aalen - Rock It *
13.05 2011 ITA - Brescia - Decimo Secolo
14.05 2011 ITA - Gorizia - Pieffe Factory
15.05 2011 SLO - Ljubljana - Channel Zero
17.05 2011 AT - Vienna - Escape Metalcorner
18.05 2011 SK - Banska Bystrica - Tirish Pub
19.05 2011 CZE - Prague - Modra Vopice
20.05 2011 GER - Jena - Rosenkeller
21.05 2011 GER - Lübeck - Treibsand